I've actually been trying some things I've never quite done before (in this way), so it has been my opportunity to have some fun. (It is also my excuse to get to have more time in the kitchen as well…… "Move over sweety, I've got some more of my millet project to do !!"

I find it interesting that I tend to see lots of fancy, gluten free recipes out there,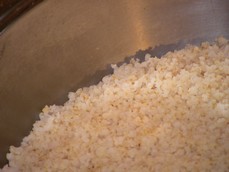 but very little of the simple stuff. Maybe I'm only one of a few who feel it is important to get to learn to work with basic, wholefood ingredients first.
Maybe it's just a reflection of the complicated culture that we live in, but this simple approach doesn't seem to get talked about much. So, I invite you to join me and try these simple recipes too. So much can be done with so little.
I hope by now you would have tried out the basic millet recipe in the previous post. It was a wonderful plain, fluffy millet and both Karen and I thoroughly enjoyed a nice portion of that as part of an evening meal. It was a wonderful change from what we had been having.
As we savored the subtle, nutty flavor (helped along by the nice "dollup" of real butter and a little salt and spice), all sorts of ideas came through about other simple, creative possibilities with this basic food. I'm sure you'll discover its versatility too.
If you watched our gluten free cooking video on our July 10th, 2007 entitled "Designer Leftovers" , you'll have a clue as to what is coming up. In fact, if you haven't watched the gluten free recipe video there, I'd suggest checking it out so you'll have a better idea as to what I'm talking about here. It'll also get your creative juices going (maybe even the salivary ones) with even more ideas.
Millet Leftovers For Breakfast:
This is such a quick, easy idea, I'm sure you'll enjoy having millet left over so you can do this too. Using the left-over from the other day, we measured out the following (very roughly):

2 Cups Millet leftovers
2 Whole eggs
(organic, free-range recommended)
Thoroughly stir these together, working out the clumps as you do and then add in about

1 Tbls Coconut Flour
(or any Gluten free flour of choice if you like)
The flour will help with the binding as well as make the mix a little less runny.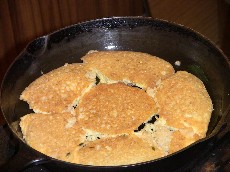 Heat up your cast iron skillet (just like we showed in the video), add a good helping of Coconut Oil as the frying medium and with only a few minutes frying on either side, they were ready for the breakfast table.
[Actually, for the ones shown in the photo, I neglected to add the flour, so they spread out a little more than they would otherwise. Still great though ! – it shows that this method is VERY forgiving]
When serving, just dress it up as you wish.
The "sweet tooth" came out in me more this morning so I added a little dab of honey to each portion before eating. Other great additions could be real Maple Syrup, Rice Syrup (gluten free), Agave Nectar or any kind of your gluten free jams or preserves.
Savory toppings or sauces would work equally as well.
If you are a lover of corn bread, you'll see with the texture of this dish that it is a little reminiscent of corn bread. Hmmmmmm. This opens up even more possibilities !!! We'll have to experiment with that idea and get back to you.
… Think "simple", think "wholesome", think "easy"…
Start developing a real relationship with your foods.
Get to know them and they'll be kind to you.

En-JOY
your time in the kitchen.
It's a
special, special
time !
To your health and gluten-freedom
Warmly,


Sven
P.S. Did you know that "Millet" isn't just one type of plant, but rather represents a whole group of seeded species of cereal crops ? So you have many different shapes, sizes and colors represented.
Did you also know that the world's oldest noodles (estimated 4,000 yrs old) were millet-based ? (BBC News – Oldest Noodle Is Gluten Free) Check out the link. Fascinating stuff !!