Freshly back from our overseas travel adventures we have gained a new perspective on challenges faced by those on gluten free diets. The fact that October was also declared Celiac Awareness Month in the USA and Canada, prompted me to write some thoughts down that could save you a lot of hassle.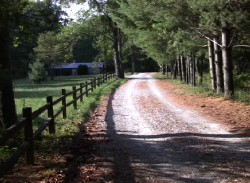 Firstly, yes, it is great to be back home. We had an exciting time in the United States visiting family and friends (some we hadn't seen in 25 years !! ). Most of the time was spent in Tennessee near the small town of Tracy City, up on the Cumberland Plateau. That's roughly midway and close to the southern border of this beautiful state.
As exciting as travel is, it also presents significant challenges, especially for those who are on restricted diets. Most readers of this blog are challenged by the logistics involved in adhering to restrictive diets of one form or another, so it is likely that you .can relate to how these are exacerbated while en-route to another country. Our recent travels have brought to light some valuable points that could make a big difference for you the next time you prepare for that gluten free adventure.
Planning and Being Prepared For Your Trip:
As with anything, adequate planning and preparation can make the difference between a fun, enjoyable experience and a troubled one.
We had hoped to be good examples of following this "plan before you go" rule ourselves, but I have to admit we fell far short of our ideal. Still, we learned a lot in the process. I noticed, in particular, that those very handy airport eateries and "Fast Food" outlets are indeed a great temptation, but for the celiac, these gastronomic "sirens" (as tempting as they may be), should remain "off limits",for all intents and purposes. The more prepared you are for your journey, the less the chance of playing "Russian roulette" in these places.
During a particularly long lay-over at an airport I found myself (more than once) walking up to an airport eatery to review my options. I stayed just long enough to feel my mouth start watering, and then returned to my seat, deciding not to part with what seemed like "mega-bucks" for foods of dubious quality……….. "Dar-r-n !!" …. I'm thinking on my way back, "…. Wish we'd had time to pack a few snacks of our own before we left…… and why did we have to throw away perfectly good, filtered water before getting on the plane ? ….. crazy !"
As with any "expedition" the more planning one does and the more well-equipped and self-sufficient you are, the better chance you have of making it through "hazardous areas" unscathed.
Depending on where you are traveling to and for how long, the following points are important to remember while planning your next excursion away from familiar territory.
Some Helpful Suggestions
1. Know Your Limits – Be familiar with what works and does not work for you (i.e. how strict you need to be determines your strategy and the level to which you need to plan)
2. Planning is key to an incident free journey or vacation:
– Do some research on your destination and the areas you pass through as to what services and support are available for your particular needs eg. contact and obtain information from celiac societies in each area about local conditions. In most cases they are well organized and have loads of informational resources. Here is a list of contact organizations around the world.
– AUSTRALIA contact www.coeliacsociety.com.au they have some excellent publications available on gluten free standards and conditions overseas, as well as locations of places to shop and eat out).
– U.S.A. contact Celiac Sprue Association http://www.csaceliacs.org
contact Clan Thompson™ http://www.clanthompson.com database search software for celiacs
– CANADA contact the Canadian Celiac Association http://www.celiac.ca
– UNITED KINGDOM contact Coeliac UK http://www.coeliac.co.uk
– FRANCE contact Association Française des Intolérants au Gluten http://www.afdiag.org/
– IRELAND contact The Coeliac Society of Ireland http://www.coeliac.ie
– ITALY contact Associazione Italiana Celichia http://www.celiachia.it
– NETHERLANDS contact Vodeinscentrum http://www.coeliakievereniging.nl/
– NEW ZEALAND contact Manufactured Foods Database http://mfd.co.nz
– SPAIN contact Federación de Asociaciones de Celíacos de España http://www.celiacos.org
– Do an Internet search for equivalent organizations in your country of interest.
– Always keep in mind that the definition of what is classed as "gluten free" varies in different countries. (eg See our blog post The Place of Oats In a Gluten Free Diet – Part 1 regarding levels of gluten contamination)
– labeling laws are also likely to be different in other countries, so be aware that the criteria you have been used to using when reading product labels may have a different standard somewhere else.
3. Travel Assistance Available To You: – here are some sites that offer great information for the gluten free traveler
www.glutenfreepassport.com
www.CeliacTravel.com/
www.GlutenFreeTravel.com.au
(A specialized travel agent aware of your needs)
4. Self Sufficiency:
– Good research and planning will help avoid painful hassles later on. That seems an obvious statement, but it is amazing how easy it is to get so caught up at the last minute that important points are overlooked. Even if you are being 100% catered to during your travels abroad it is also wise to prepare for those times when things just don't work out as planned.

– Depending on your own level of sensitivity to Celiac sprue, or of gluten intolerance, you may even have to carry your own mini travel "survival kit" of gluten free foods to get you safely to your destination with the minimum of fuss. If you are at the more extreme end of sensitivity, even carrying your own utensils, can-opener and mini-cutting board can give welcome assurance when processing or eating foods.

– With BYO foods, consider what facilities will you have available along the way? What snacks are suitable for various legs of your journey ?

– Keep in mind customs regulations for each leg of the journey so your valuable stash of foods are not taken from you as you arrive at the destination.

– if you are diagnosed celiac, carry a signed letter from your doctor with you, outlining your condition and what your needs are. This could make the difference in a sticky situation.

– Carry celiac information cards in the language of the country that you are traveling to (inquire at you local celiac society to see if this is available). This can be a very handy way to communicate the needs of your condition in non-English speaking countries.
Take comfort in knowing that there is increasing support to help make traveling easier and more enjoyable for those with gluten restrictions. It is so much easier now than it was five years ago.
As I mentioned earlier, October is Celiac Awareness Month in the United States and Canada (see http://www.csaceliacs.org/month.php). In support of this, the following video provides a good summary of the issues as they are today.
Just click the Play button to view.
One Last Important Point:
As the main theme of our web-site suggests, remember that when a product is labeled "Gluten Free" it does not necessarily mean "wholesome". Being approved as "Gluten Free" is one important criteria, yes. Our suggestion, however,is not to let just any advertised "Gluten Free" status give automatic, carte blanch approval to an onslaught of plastic foods and chemical additives to an already compromised system.
We encourage learning to recognize and prepare "real", healing foods yourself as much as possible. To benefit not only from the foods themselves, through the nourishment and the pleasure that they bring, but also through developing, nurturing and passing on the skills of working with natural ingredients and associated processes that are such a necessary part of sustainable living.
That's it for now.
As always, To your Health and Gluten Freedom.
Warmly, Sven