This dish is one of our favorites. It is quick, simple, very nourishing and awesomely tasty. The liquid base for this recipe is a good quality chicken broth, that we almost always have on hand either in the fridge or freezer.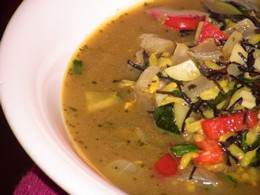 (for those unfamiliar with the best way to make broth, we'll demonstrate the method we use at a later time).
We also like to use Sea Vegetables as much as possible. Arame (the black slivers you see in the photo) was used for this recipe. It is available in most healthfood stores or Japanese food outlets. It is very mild to the taste, is one of the richest sources of iodine and also high in calcium and iron. It has lots of applications and is very easy to work with.
Chicken-Veggie Soup with Arame
Ingredients:

– 2 Cups Chicken Stock
– 1/2 tsp Celtic Sea Salt (if the stock is unsalted)
– 2 tsp dried sage herb
– 1/4 cup dried Arame Sea Vegetable
– 1 medium onion, chopped
– 4 (or more) large garlic cloves, chopped
– 1/3 cup greens beans, cut small
– 1/2 cup chopped mushrooms (optional).
– 1 small zucchini, cut into small wedges
– 1 cup left-over rice or millet (optional)
– 1/2 cup garlic chives, chopped small
– 1/4 red bell pepper, finely chopped
– real cream or butter (preferably grass-fed and raw)
Procedure:
– Prep all ingredients
– Place items 1 – 7 and place into a small pot.
– Bring to a boil, reduce the heat and then let simmer with the lid on for a 5 minutes.
– Add the green beans and zucchini
– Add the left-over grain but DO NOT stir.
– Replace lid and allow to simmer another 5 minutes
– Add the garlic chives and bell pepper
– Stir the soup together and turn off the heat.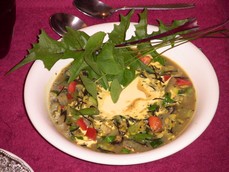 Serving Suggestions:
Once placed into serving bowls it is great with the added touch of a "dollop" of real real cream or butter as desired.
This is such a nourishing and filling soup that we usually feel quite satisfied with just that alone.
Sometimes though, the addition of a corn bread or one of our gluten free quick, pan breads makes a welcome addition.
PS: Vegetarian ?
For those who are cooking vegetarian, then we'd suggest starting with just plain water or a home made "veggie mineral broth". You could add a good quality traditional, fermented miso (to taste) just before serving.
Shiro or Mugi Miso have a milder taste and would do well here in small amounts. Just dissolve about a teaspoon or so with some of the liquid and add it to your bowl to taste just before serving.
(If you are not into using butter or cream, then adding a good quality oil or fat is highly recommended. Coconut Oil would be the top pick.
En-JOY your time in the kitchen.
It's a special, special time !
To your health and gluten-freedom
Warmly,
Sven and Karen