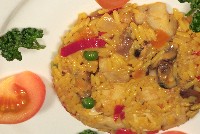 In Part 1 of this article we focussed mainly on using leftover gluten free grains in an easy and fun way, with a bit a leaning towards those in the family with a "sweet tooth". Today's creative presentation would end up under the classification of patties, burgers or (rice) "rissoles" "(if you're from "down-under").
Karen whipped up a batch of these the other day and boy, were they scrumptious !!
So, here it is ……
Designer Leftover Rice Patties (with egg):
BASIC RECIPE:
2 eggs (preferably organic and free-range)
2 cups left over rice
1 cup mixed, fresh, finely-grated/chopped veggies (carrots, zucchini, broccoli, tomato, bell pepper), red onion.ALTERNATIVELY, use left over cooked veggies or stir-fry
Salt to taste (Celtic Salt or other good quality Sea Salt is recommended)
Fresh or dried herbs and spices to taste such as garlic chives, sage, parsley, basil, rosemary, thyme. turmeric, minced garlic, etc.
METHOD:
1. Mix eggs and rice into a smooth consistency
2. Select and prepare the fresh veggies (remember to grate or chop finely so that they can cook quickly), ALTERNATIVELY, substitute all or part of the fresh veggies with veggie left-overs.
3. Mix in salt and herbs/spices to taste
4. If the mix still seems too wet, sprinkle in some slippery elm or coconut flour (firm enough to hold together when spooning the mix into the pan)
5. Pre-heat skillet, oiled generously with coconut oil
6. Pan fry the patties over moderate flame till crispy and golden brown.
NOTE: The above recipe also works great baked in a casserole dish (Moderate oven for 40 – 50 minutes), or in a covered skillet If cooked in a skillet then remember to turn the heat down very low. Grated cheese also goes great sprinkled on top.
Designer Leftover Rice Patties (without egg):
In the above recipe it is, of course, the egg that binds the whole lot together. With rice as the base, great patties can also be made without adding any other binder. In this method, the rice must be relatively soft (short or medium grain brown rice works best)
METHOD:
1. It is important to first repeatedly "squish" the rice between moistened fingers for up to 5 minutes or so. 2. The more you do this you'll find the rice sticking together better and better.
3. Once you can firmly press the rice into a ball and it easily holds its shape, then you are ready to add in any other ingredients.
4. Mix in approximately a THIRD the volume of veggies and fresh herbs as you did in the above recipe.
5. Thoroughly knead in the fresh ingredients and test to see if you can still form a pattie shape and that it holds together sufficiently.
6. Add a little more veggies and retest as above
Served up with steamed veggies and gravy sauce, mustard, salsa or "whatever grabs ya". These are so wonderful, quick and easy. We hope you'll enjoy them as much as we do.
To your Health and Gluten Freedom.
Warmly, Sven and Karen