There is so much helpful video information being uploaded to the Internet all the time. It's easy to miss if you're not specifically looking for it every day. Keeping up with it all would easily be a full-time job and I don't think that many of us can afford to spend that much time searching for all this information.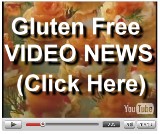 Fortunately, I found a way to pull all the gluten free related videos from YouTube.com into one location and incorporate it into a new feature we have just added to this site called the "Gluten Free Video News" page.
It is all set up and can be accessed by clicking the new video graphic in the Right Hand Column of this page. (I've included a "click-able" copy of that graphic above, so you know what you are looking for.) Check it out.
Ten Videos On Each Of Ten+ Pages:
Once you open the Video News Page, look to the bottom and you will see a set of numbers 1,2,3,4,5… etc. Each number is "click-able" and each brings up a whole new set of ten videos.
If that's not enough, consider that there are new videos being submitted everyday. Topics covered include everything from gluten free recipes and cooking demonstrations, through to discussions on celiac, diagnosis, gluten free diet, interviews, etc.
Keywords Feature:
Another feature that is helpful to know about is related to the list of "key" words in the top left hand corner of the video page. You'll notice that each one of these words is "click-able".
Once clicked, the videos are rearranged in order to make videos related to that word a priority. You will then see those particular "keyword"-related videos listed first.
Search Feature:
Similarly, you can enter your own gluten-free related "keyword" into the Search Box at top left of the Gluten Free Video News page. New Videos will then be streamed in related to that particular word.
To get back to this main blog page just click on the link at the top "BACK TO BLOG"
Have a play around with it till you feel comfortable, and then check back often. It's a great resource. Write a comment about what you think of it.
To Your Health and Gluten Freedom,


Sven