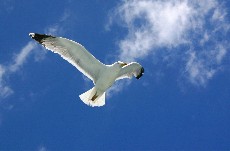 This is not an article about gluten free cooking, about celiac, or even how to live a gluten free life. It's more about facing the challenges that come with the condition.
Someone once told me that "The challenges that we face, day to day, are just opportunities to overcome". The magnitude and circumstance may vary, but the challenge remains the same.
We all have our victories, as we also have our setbacks.
How we handle either is an indication of how
much we have developed inside.
If the severity of your gluten intolerance is extreme and your ability to deal with the emotional and physical issues at hand are pushed to their limits, then it's the "inner game" that becomes your most potent field of play.
I have also heard said that facing challenges was like going to the gym; that it was where we develop and strengthen our inner capacities. Still, whether it's in the gym or in your mind, it is also clear, that when you feel the pain, there is little choice but to just "be with it" and move on through the experience.
A little shift in perspective, however,
can make all the difference in
how you hold the experience.
It makes no difference whether the challenges are "enormous" or "trivial" it works the same, but it's the "how" of making that "shift" that's the kicker.
I think it's because of this that I am so attracted to (and moved) by stories of people who have faced, and overcome, tremendous odds to reach their own personal victories. Once I'm exposed to these, it helps me to face my own challenges a little more gracefully than I did the time before.
One such story I wanted to share with you in this post. His name is Nick Vujicic, and if you haven't heard his story till now, I'm sure you'll hear much more about him in the future.
You see, he was born without limbs. No arms. No legs. He is now 24 years old and has accomplished more than most people would barely dream of accomplishing in a lifetime.
What an inspiration !! I hope that his story touches you as it did me.
……… to help and inspire you to move through the challenges you have in your life. Here is short 5 minute video as an intro. Just Click PLAY > to start.
For an additional, powerful, 15 minute video segment of Nick
speaking in his role as a motivational speaker CLICK HERE
and scroll down the page a little to the video screens.
The next time you attend another "inner gym" workout, it is my sincere hope that this exposure to Nick's story and his amazing expression, will empower you to greater heights in every way.
To your health and inspired journey to gluten-freedom
Warmly,


Sven