The question put forward in the title of this post is simply to stimulate and encourage the enquiring mind oriented around a gluten free diet to follow up on the sources of information provided in this post
Due to the time-sensitive nature of the current Australian tour schedule (May 19 – June 6)th by Sally Fallon, this is of particular relevance to our Australian readers. However, for those in other countries, or those who are reading this sometime into the future, we've also included relevant reference links for further information.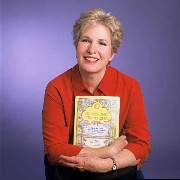 Sally Fallon is a journalist, nutrition researcher, chef, homemaker and community activist, perhaps best known for her book Nourishing Traditions – Cookbook That Challenges Politically Correct Nutrition & The Diet Dictocrats, Revised Second Edition
., which she co-authored with Mary Enig, PhD, who is world-renowned for her expertise in the field of lipids and human nutrition (Mary Enig, PhD is lovingly and respectfully referred to as the "fat guru"). She was also one of the first to raise the alarm about the dangers of trans-fats.
Even though Sally Fallon's overall nutritional message, is not specifically aimed at celiacs or other allergy sufferers, it is, however very relevant to anyone looking for well-researched information with which to maintain, improve or help rebuild healthy body function.
Backed up by solid research and "good" science, the book and Sally Fallon's message is truly an eye-opener. I feel that this information is particularly valuable for those working to find answers to a compromised immune or digestive function. For this reason, I'd say that my gluten-free cooking tip for today is simply to go along to any of her presentations either here in Australia, New Zealand or the United States.
Alternatively you can check out either of the two websites mentioned below. Fallon also co-founded the Weston A Price Foundation, which is a non-profit, tax-exempt charity dedicated to raising the profile, and use, of nutrient-dense foods in the diet. Their website is www.westonaprice.org/ .
Sally Fallon Tour – Australia Tour dates
Brisbane – 19th / 20th May, 2007
Sydney – 26th May, 2007
Melbourne – 29th May, 2007
Gippsland – 31st May, 2007
Adelaide – 1st / 2nd June, 2007
Perth – 5th / 6th June, 2007
More information on the current Australia tour can be found at www.westonapriceaus.org.au
Till next time,
stay open, question and keep learning. Cheers, Sven