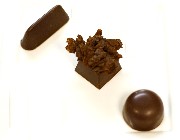 Here's something you can have a bit of fun with ! An absolutely wonderful, healthy chocolate treat that is gluten free, dairy free and free of refined sugars.
We developed a number of variations of the theme, but here's one recipe we'd like to share with you that we took to a function recently. This recipe, (and other variations of it), are so quick and easy you'll always want to have the ingredients on hand.
You'll need – Ingredients (below) + plastic ice-block tray + aluminum foil (optional).
Ingredients: (Metric Measurements) (Refer to Ingredients Article for conversions – LINK Here or CLICK HERE for Wt. and Temp. Conversion Page )
2 Tbls Organic Coconut Oil
2 Tbls Organic Cocoa Powder
1 Tbls Carob Powder
1/2 Tbls Maple Syrup
1 pinch Stevia Powder (to taste)
2-4 drops Peppermint Essence (to taste) (makes 6 – 8 pieces)

Directions:
1. Measure out the Coconut Oil into a saucepan and warm till melted.
2. Add the sifted cocoa and carob powders
3. Add Maple Syrup and stevia to taste
4. Add Peppermint Essence
5. Stir thoroughly to a "spoon-able" consistency
6. Spoon equal portions into bottom of plastic ice-cube tray (or other mold)
7. Place tray in freezer till solid (approx 15 – 20 minutes
8. Enjoy straight from the tray or individually wrap in aluminum foil for special occasions
NOTES: The addition of the maple syrup helps to mask the stronger stevia taste. The downside to adding the maple syrup is that the finished product gets softer a little sooner than without on warmer days. Because of the fats chosen for this product, its melting point is significantly higher than that of commercial chocolate. Because of this, it is best stored and served from the refrigerator or cooler.
When you make these, you'll find that your guests instinctively know what they're called. They'll turn to you, chocolate in hand, and say "Did-ja-make-'em ?". To which you'll smile and say "Of course !" (That's why they're called "Jamaik'em Choc-Mints".)

ENJOY .
B.T.W. Did you know that coconut oil helps you to lose weight ?
For your health and gluten freedom.
Warmly, Sven and Karen
P.S. If you are having difficulty locating books about the value and usage of coconut oil and coconut flour, we'll be stocking these soon. Email us at:

P.P.S. For more info on the value of using coconut products refer to our earlier article by clicking on THIS LINK HERE