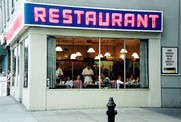 Do you ever feel nervous about eating out because of your gluten free restrictions?
Dining out can feel like playing
Russian Roulette at times,
unless you go about things
the right way.
Fortunately there are steps you can take to greatly minimize any risk.
You have to be diligent, though, in following the steps that lay the foundation for a trouble free dining experience
Effective Communication is the Key
It all comes down to effective communication and building a trusting relationship between yourself and the owner/manager of the restaurant or eating establishment.
Having been a store owner, as well as one who has prepared gluten free foods for the public, I can highlight a few points from that perspective that will greatly increase your chances of success in the shortest possible time.
Here's your BEST OPTION and TOP recommendation – Plan a day or two in advance. Showing up unannounced and expecting the best service, my be more adventurous and spontaneous, but it only takes one bad experience to change that perspective.
TWO Things To Keep In Mind:
1. REMEMBER the perspective of the restaurant owner/chef. Even though your gluten sensitivity may be foremost in your own consciousness, from the position of the restaurant manager or chef, you are one of perhaps dozens or even hundreds that he/she will cater to on that day. They need all the support they can get to do the right thing by you.
2. It is YOUR responsibility to communicate effectively and to do so at times when the restaurant owner/chef can give you the most, focussed attention.
Your 10 Steps To Dining Out Gluten Free:
1. Call ahead. Ideally the day before

2. For best response do NOT call during their busiest time.

3. Ask to speak with the manager (in smaller establishments it might even be the chef).

4. Make a note of the person's name and his relationship to the establishment. (make a point of getting to meet that person, so you can further build the relationship)

5. Introduce yourself with your full name (this is the beginning of establishing a relationship …… it could become an important one … after all, you will be trusting them to prepare your food for you)

6. Let him,/her know you are considering eating out at their establishment.

7. Make known EXACTLY what your food restrictions are.

8. Ask whether or not he/she believes your needs can be accommodated. Was the answer "Yes.", "Certainly" ?
…… Then things are looking good. ……… Now for the next question ….. I believe this to be another important one.

9. Ask if there is anything else that you could do to support them in accommodating your needs correctly. Eg. would it help to personally speak to the chef? Should you report to any particular person when you arrive? Would it help to itemize your restrictions on a card that they can keep on file? etc…. This question helps to get feedback from their perspective and cover things you may not have thought of.

10. End the call with a courteous "Thank You" whether you received a positive response or not.
If you like to eat out frequently, then finding a restaurant that you can feel relaxed and confident in, can be like finding gold.
If you take the time to build your relationship with the owners and staff correctly, they'll treat you like gold too.
To your gluten freedom,
Sven