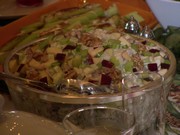 I hope that your Thanksgiving was as much a pleasure for you as it was for our family.
Of course, here in Australia, very few celebrate this day like our US counterparts. Our family is a bit different in that we have more of a US influence now and so we enjoy the "full deal" for Thanksgiving. There are only a few of us that have such a strong interest in gluten free foods though.
Here is a wonderful gluten free Waldorf Salad recipe that I wanted to share with you. It is a very special recipe and proved very popular at our family gathering.
As you probably already know, mayonnaise is a key ingredient in a Waldorf Salad. We didn't just crack open a jar of gluten free mayo and slap it on, though. We made it from scratch …… not that this is such a big deal

.
Gluten Free Mayo From Scratch
I wanted to highlight the idea of making the mayonnaise from scratch for two reasons.
1. You can ensure all ingredients are gluten free and
2. because this method (optional step) serves to demonstrate some interesting fermentation principles (using a live culture, goat or cow whey). This not only promotes health but also helps to preserve the mayo itself.
Mayonnaise Ingredients:
(These quantities makes more than you'll need for the salad – handy to save some for later)
5 egg yolks – Free Range, organic preferred (freeze the egg whites for later use)
4 Tbls fresh lemon Juice
1 Tbls prepared (gluten free) mustard
1/4 tsp Sea Salt
1/2 cup Sunflower Oil
2 cups Coconut Oil
Optional 2 Tbls goat or cow whey * (See Note Below) By adding the live cultured whey, it will help to naturally preserve the salad as well as the mayonnaise. The good bacteria in the whey will help to preserve and extend the life of the refrigerated mayonnaise up to as much as several months. Without the whey, the mayonnaise should last 2 weeks refrigerated.
Method:
Step 1. Ensure all ingredients are at room temperature.

Step 2. Combine all ingredients, except the oils, into a food processor (a blender is OK too).

Step 3. Blend for about a minute, then, with the machine still running, VERY slowly add the oils. It is important that only a tiny stream of oil enters the mix at any one time (a secret of making mayonnaise).

Step 4. Optional Step – If you have included the live culture whey, then leave the mix at room temperature for 6 – 8 hours before refrigerating.
The Salad: (Makes about 15 serves)
Celery – approx 5 cups diced (a full large head of celery)
6 Red Delicious Apples – diced and dipped in lemon juice to prevent browning.
2 Cups Fresh Walnuts (chopped) – you can substitute pecans
TIP: Depending on your supplier, Walnuts and Pecans are often rancid due to the fragile oils in them. Sample them first before purchase if you can.

OPTIONAL STEP – For reasons of better digestibility and taste, soak the nuts 2 – 7 hours in a mild salt water solution prior to chopping .
Finishing Touches:
Save some walnut halves, celery and apple for the final decoration. Once the mayo is added, the salad has a creamy look to it, so these fresh, contrasting, decoration pieces add to the final, visual appeal to the dish.
Suggestion: – As a variation for a different visual presentation, you can "Julienne" (i.e. cut into long thin strips) the apple and celery.
Have Fun:

Have fun with this recipe. It's a good one.

* NOTE – If you do not have access to quality, raw milk products to ferment your own whey, you can obtain the whey you need for this recipe by purchasing a good quality, natural yoghurt with live cultures. If you place a portion of this in a clean cotton cloth and let it hang, the whey will drip into a bowl below. What remains can be used for spreads and dips.