Monday, December 3rd, 2007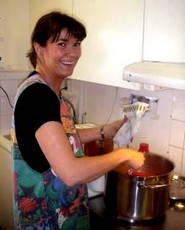 When I first encountered customers with gluten intolerance or celiac, I had no problem (I thought) in understanding the issues that they had to deal with. The solution, it seemed to me, was simple enough. Just avoid the gluten containing foods.
Since those early days, I have found out, that for many sufferers, this directive is a lot more involved than it first appears.
So, if you are one who is dealing with a very, gluten sensitive condition, or if you are caring for, shopping for, or preparing food for such a person, then these notes are for you. (more…)