Tuesday, September 30th, 2008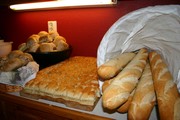 Probably nothing can seem as daunting to the new gluten free cook as gluten free baking.
Let me say, firstly, that you can lay any apprehension aside about this subject, because the hard work has already been done for you.

Gluten Free Baking Today.
Not only are commercially-baked gluten free breads more widely accessible today, but virtually the entire range of other baked gluten free products has expanded as well. Products like pizza crust, cakes, muffins, cookies, biscuits, pies etc are now relatively easy to find in most places.
What Is Used To Replace The Gluten?
The big challenge with Gluten Free Baking, of course, is how to mimic the function of the gluten in regular bread with gluten free ingredients. After all, most people want to get a result as close to the look, feel and taste of the regular breads and pastries they loved so much in earlier days. Right? (more…)