Sunday, November 30th, 2008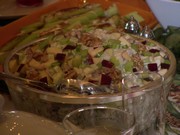 I hope that your Thanksgiving was as much a pleasure for you as it was for our family.
Of course, here in Australia, very few celebrate this day like our US counterparts. Our family is a bit different in that we have more of a US influence now and so we enjoy the "full deal" for Thanksgiving. There are only a few of us that have such a strong interest in gluten free foods though.
Here is a wonderful gluten free Waldorf Salad recipe that I wanted to share with you. It is a very special recipe and proved very popular at our family gathering.
As you probably already know, mayonnaise is a key ingredient in a Waldorf Salad. We didn't just crack open a jar of gluten free mayo and slap it on, though. We made it from scratch …… not that this is such a big deal

.
Gluten Free Mayo From Scratch
I wanted to highlight the idea of making the mayonnaise from scratch for two reasons.
1. You can ensure all ingredients are gluten free and
2. because this method (optional step) serves to demonstrate some interesting fermentation principles (using a live culture, goat or cow whey). This not only promotes health but also helps to preserve the mayo itself. (more…)