Wednesday, February 20th, 2008
There is so much helpful video information being uploaded to the Internet all the time. It's easy to miss if you're not specifically looking for it every day. Keeping up with it all would easily be a full-time job and I don't think that many of us can afford to spend that much time searching for all this information.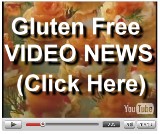 Fortunately, I found a way to pull all the gluten free related videos from YouTube.com into one location and incorporate it into a new feature we have just added to this site called the "Gluten Free Video News" page.
It is all set up and can be accessed by clicking the new video graphic in the Right Hand Column of this page. (I've included a "click-able" copy of that graphic above, so you know what you are looking for.) Check it out. (more…)