I know it's been ages since our last post but rest assured that we have been busy behind the scenes. No slacking off in this department. No, no !!
We have been so looking forward to including our own video presentations. We are now a major step closer. In fact, our first little presentation is entering the latter stages of editing. So, unless something major happens in the next short while, we expect to be in a position to post it in the next day or two.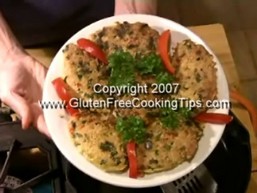 We will be doing a video demo of our earlier post on Gluten Free Designer Leftovers. Now, please, please …….. I hope we don''t hear anyone coming up with a smart remark like …… "Oh no!! Not leftovers again !!"

We know it''s all very basic stuff too, but you know, it''s the simple things like this that can make a huge difference when you're just stuck for ideas, short on ingredients and/or you need to come up with something tasty in a hurry. Those of you who are eating gluten free by necessity, will especially appreciate that fact, I''m sure.
Oh, and by the way, if you haven''t already done so, I''d recommend your subscribing to our email updates to stay in touch with announcements of special additions to the site as they happen.
Just fill out your name and email in the box at the top of this page and your IN. It''s easy to opt OUT too, if you change your mind, AND, you can count on us NOT to be spamming you with junk OR disclosing your details to anyone else. Promise !
Any constructive feedback appreciated.
To your Health and Gluten Freedom.
Warmly, Sven and Karen