Sunday, February 17th, 2008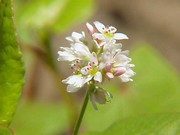 Continuing on from the last post, here are a few pointers to help you find the kind of raw materials you need to make the delicious porridge mentioned earlier.
Of the buckwheat that is produced for human consumption, most of it is milled into flour. The whole buckwheat kernels themselves, unfortunately are not commonly available in regular stores or supermarkets. More often they are quite easily found in most Health Food or Natural Foods Stores.
What you will be looking for is the RAW, HULLED seeds of the BUCKWHEAT plant. Depending on where you live it may be referred to as: (more…)