As I read through this book I thought, "Wow ! What a perfect compliment to this website." There is a lot written about what a person NEEDS to do when living day-to-day on a gluten-free diet, but very little is written on exactly HOW to do it.
There are two main areas relating to the "How to's" of gluten-free living.
1. Those relating to the cooking-kitchen-lifestyle side of things (which this website aims to address).

2. Those relating to the day-to-day, challenging realities of living the gluten-free life (especially if you have a super sensitive condition).
It is this second part that Peter Tremayne's book The Essential Gluten Free Guide, addresses so effectively.
Written by a person who has walked the path himself and interacted with many other fellow celiac sufferers, this 73-page Ebook is jam-packed with practical, helpful advice. It is an excellent guidebook both for the person new to the "gluten-free path" and also for those who already have gained some experience on the journey , but who have gotten frustrated because they attempted the journey in a "hit and miss" sort of way.
Check your own preparedness:
If you have just become aware that gluten is an issue for you, how can you hope to lead a normal life ? Can it done ?

How can you comfortably interact with your family and friends without making them "suffer" too?

If you have found that even trace amounts of gluten can upset your system, how can you hope to go out ANYWHERE to eat and be confident that you too can have an enjoyable time ?

Have you considered yet, how you can support yourself emotionally when you go through those "rough" patches ?
The answers to these and other important questions you may not even have thought about, are all available in this concise book.
You don't have to "reinvent the wheel" on living your gluten-free life. Someone has already done the hard work for you. If this subject is pertinent to you personally or you're thinking of it for a particular friend or relative, just know that the book carries my personal recommendation.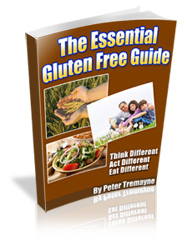 Also, with Peter's 8-week Satisfaction Guarantee and the extra bonuses that come with each purchase, you really just can't go wrong.
For more information on how The Essential Gluten Free Guide can help transform your gluten-free experience. < CLICK HERE >.
May this assist you to your Gluten Freedom.
Cheers, Sven